Investment may run into tens of millions for construction of extraction plant
Paques Biomaterials will build a PHA extraction demo plant at GETEC PARK.EMMEN to produce a fully biodegradable biopolymer. The installation is planned to be operational in 2023. Following the demo plant the commercial extraction plant is scheduled to come on stream in 2026. The total investment of the demo plant and the extraction plant is estimated at € 58 million. Around 40 jobs will be created.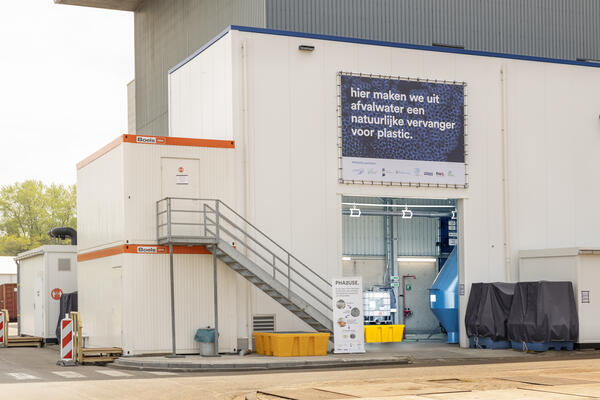 marc dorleijn © marc dorleijn fotogfafie
Paques Biomaterials has successfully developed a process to produce a fully biodegradable biopolymer from organic waste streams: polyhydroxyalkanoate (PHA). With PHA, Paques Biomaterials offers an alternative to the use of conventional (non-biodegradable oil-based) plastics that are applied in e.g. paints, clothing, cosmetics and agriculture. Paques Biomaterials thus offers a fully circular solution for the future.
Demo plant in anticipation of extraction plant
A next step in the development and upscaling is the demonstration scale execution of the extraction process to validate the full scale design. Paques Biomaterials will realize a demo plant in 2023, in anticipation of the construction of the commercial extraction plant. The final investment decision is expected in 2024. According to plan, this plant, with a capacity of 6 ktonnes of PHA per year, will become operational in the course of 2026.
Lot at GETEC PARK.EMMEN
The commercial extraction plant is planned on a plot of approximately 3.2 hectares between GETEC PARK.EMMEN and the ring road. This business park is especially meant for companies active in the field of circular economy and (greening) chemistry. Paques Biomaterials fits in very well with the valuable economic activity that Emmen already has with companies such as MCE, Senbis, Cumapol, Morssinkhof and Sunoil.
Choice for Emmen
Decisive in the choice of Paques Biomaterials was the innovation ecosystem in Emmen with a strong focus on greening the chemical industry, access to well-trained staff, GETEC's facilities in the field of energy, utilities and services, GETEC's strong focus on sustainability and the development of the Greenwise Campus.

Quotes involved
Joost Pâques - Managing Director Paques Biomaterials
"We choose Emmen because everything comes together here. The focus on Green Chemistry, the ecosystem, partners, people, a site; everything is here and every time we visit Emmen we get even more enthusiastic."

Guido Rink - Alderman Municipality of Emmen
"An innovative company like Paques Biomaterials is a very welcome reinforcement of the Emmen ecosystem. Paques Biomaterials fits perfectly at GETEC, the industrial park where the biobased and circular economy and (green) chemistry grows and flourishes. Moreover, educational and knowledge institutions are ready to take on the challenges of PHAs and other bioplastics with Paques Biomaterials. Welcome to Emmen!"
Henk Brink - Gedeputeerde Provincie Drenthe
"I am pleased with the arrival of Paques Biomaterials. With the Chemical Cluster Emmen, Drenthe is a leader in Europe when it comes to the production of green plastics, composites, fibers and yarns. The arrival of Paques Biomaterials will further strengthen the chemical cluster in Drenthe. Paques Biomaterials is an important player in one of the challenges we face: the processing and reuse of waste streams such as food waste, sludge and waste water. In addition, the arrival of the company gives a further boost to the region."
Hendrik van der Ploeg, Director GETEC PARK.EMMEN
"GETEC combines a long-term strategy in terms of a sustainable and CO2 neutral energy supply with concrete solutions that we can already offer today. Paques Biomaterials' energy supply is realized with sustainable biomass, hydrogen and electricity from solar panels."
Thomas Schoepke, CEO GETEC Platform Netherlands
"We are delighted that our innovative energy concept contributes to the development of new technologies for sustainable production. From Emmen, GETEC Platform Netherlands focuses on sustainable energy solutions for the industrial and real estate sector in the BeNeLux."

More information
About Paques Biomaterials - www.paquesbiomaterials.nl/
Paques Biomaterials uses natural bacteria and processes to produce biodegradable PHBV bioplymer, using organic material present in waste streams as nutrient. This way, a natural biomaterial is produced from waste with high added value and broad applicability. The Paques Biomaterials team has been working on scaling up this technology for over a decade and is currently preparing to commercially introduce its products and processes.
About GETEC PARK.EMMEN - www.getec-energyservices.nl/
GETEC PARK.EMMEN is one of the larger chemical parks in the Netherlands, with approximately 90 ha. The production companies established on the park are mostly active in the field of plastics and synthetic fibres. Besides traditional production there is an increasing focus on circularity and bio-based production. As a supplier of energy, utilities and services, GETEC supports the companies on the park.
About the Municipality of Emmen - www.emmen.nl
The municipality attaches great value to the greening of the chemical industry. The municipality of Emmen is also investing in this. Within the Emmen ecosystem knowledge institutes, public authorities and businesses are working together energetically on the greening of the chemical industry. The Taskforce Green Chemistry is a good example of this. Through the continuous learning line between MBO, HBO, university and the hybrid research group Sustainable Plastics of the University of Groningen and NHL Stenden, well-educated personnel is trained and a lot of specialized knowledge and research power is available. An innovative company like Paques Biomaterials is a welcome reinforcement of the Emmen ecosystem.
Note to editors For more information, please contact:
Martin Kugel from team Communications: 06 - 2242 1513 or communicatie@emmen.nl.
Joost Paques of Paques Biomaterials: 06 - 1079 9153 or j.f.paques@paquesbiomaterials.nl.
Tjisse Noordhuis of GETEC PARK.EMMEN: 06 - 5153 7488 or Tjisse.Noordhuis@getec-park.nl.
We embody partnership –
find your contact.
With more than 50 locations throughout Europe, we are always at your doorstep.
Contact us. We are here for you.
Contact